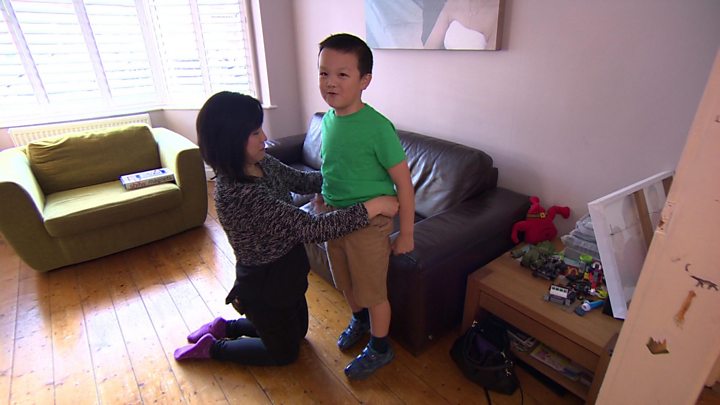 Supermarket chain Morrisons has introduced a weekly "quieter hour" for autistic shoppers who struggle with music and noise.
Its 439 UK stores will dim lights, turn music off, avoid using the tannoy and turn check-out beeps down on Saturdays from 09:00 to 10:00.
The movement of trolleys and baskets will also be reduced, it says.
The National Autistic Society says it is a "step in the right direction" for those who find shopping a struggle.
The charity is encouraging retailers to take part in a nationwide "autism hour" in October.
Toy shop The Entertainer holds "quiet hours" during the first hour of opening every Saturday, when staff turn off in-store music in the company's 145 UK stores to "create a more welcoming environment for children with autism".
Asda said a number of its supermarkets across the country worked with local groups to run quiet hours on a regular basis. It added it was working with specialist charity groups to ensure its stores were inclusive for all. One of its stores in Manchester first introduced the scheme in 2016.
Tesco said it was not planning on rolling out the initiative nationwide, but store managers were welcome to introduce it if they felt it appropriate – as one store in Alloa, Clackmannanshire, did last year.
'Autism Hour' helps cut shopping stress
What is autism?
The Morrisons scheme was introduced following a trial earlier this year in its Lincoln, Woking and Gainsborough stores. Angela Gray, Morrisons community champion at Woking, who has an autistic child herself said she'd found the changes made a "real difference".
Stores will put signs up during the hour to let other customers know about the scheme and to highlight that it is meant to be a calm environment for shoppers.
Charlotte King, whose three-year-old son Darcy is undergoing diagnosis for autism, said the initiative was "amazing", making it "far less stressful" for adults with autism and parents of children with the condition.
"I personally avoid taking him anywhere in shopping malls," said the mum-of-two, from Hartley-Wintney in Hampshire.
"It is the noise, the lights, it is tannoys. It is too much for him to take in. It looks like you are a bad parent with a naughty child.
"Parents will be more relaxed knowing there will be people there that understand and won't judge them, this will help reduce anxiety levels for everyone."
The National Autistic Society says there are 700,000 people on the autism spectrum in the UK, who "see, hear and feel the world differently to other people, often in a more intense way".
---
What is autism?
A lifelong developmental disability that affects how a person communicates with and relates to other people, and how they experience the world around them
About 700,000 people in the UK (more than one in 100) are on the autism spectrum
Autism does not just affect children. Autistic children grow up to be autistic adults
People may be under-sensitive or over-sensitive to sounds; find social situations a challenge; experience a "meltdown" if overwhelmed
Source: The National Autistic Society
---
Are you or your child autistic? Or perhaps you struggle with noise and music in public spaces? Share your experiences by emailing [email protected].
Please include a contact number if you are willing to speak to a BBC journalist. You can also contact us in the following ways:
WhatsApp: +447555 173285
Tweet: @BBC_HaveYourSay
Send pictures/video to [email protected]
Upload your pictures/video here
Send an SMS or MMS to 61124 or +44 7624 800 100
Please read our terms and conditions and privacy policy